Description
The upgraded V333 comes with the new headless compass mode that makes flying the quadcopter much easier. Without this feature, a quadcopter will be controlled like a helicopter whereby to go in a certain direction the helicopter must be rotated to face that direction and then you go forward. With the compass turned on it no longer matters which way the quadcopter is pointing, when you push forward on the transmitter the quadcopter will always move away from the take off position, and the same with the other directions regardless of which way it is pointing. We have also upgraded our V333 stock with a built in video camera that fits in perfectly underneath the landing skids. Hit the button on your transmitter and the camera will start recording allowing you to easily make amazing aerial videos and pictures. The footage records onto a micro SD card that can be removed from the camera for watching on your device later. Just like the V262, the upgraded V333 is a large easy to fly radio controlled quadcopter for any pilot of any level. Designed with simplicity and beginners in mind, the quadcopter boasts a light weight but durable protective foam that not only protects the model in case of a crash, but also anything you crash into. The on board 6-axis gyro with adjustable control sensitivity makes flying it super easy as the gyro acts like a kind of auto pilot, automatically keeping the quadcopter stable during flight even if the wind blows. Once you have mastered the basics, press the "Trick Mode" button and the V262 will transform into a stunt model capable of performing flips and tricks! It is a ready to fly model that comes complete with a 2.4Ghz transmitter meaning you don't have to worry about signal interference and can fly multiple models in one area. Please note the colour will be chosen at random.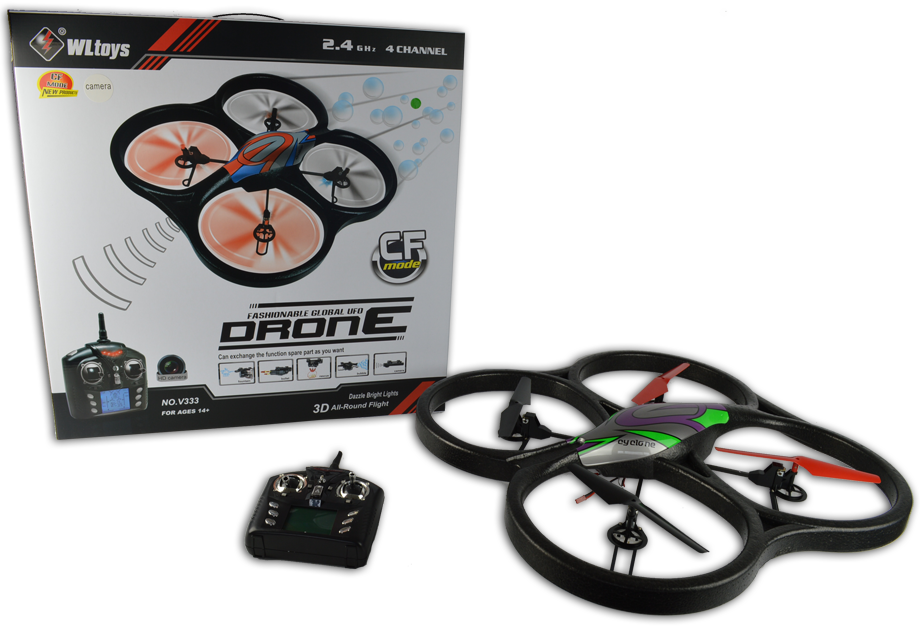 6 AXIS FLIGHT CONTROL SYSTEM
The adjustable gyroscope automatically adjusts the speeds of the rotors to keep the copter stable even in windy conditions.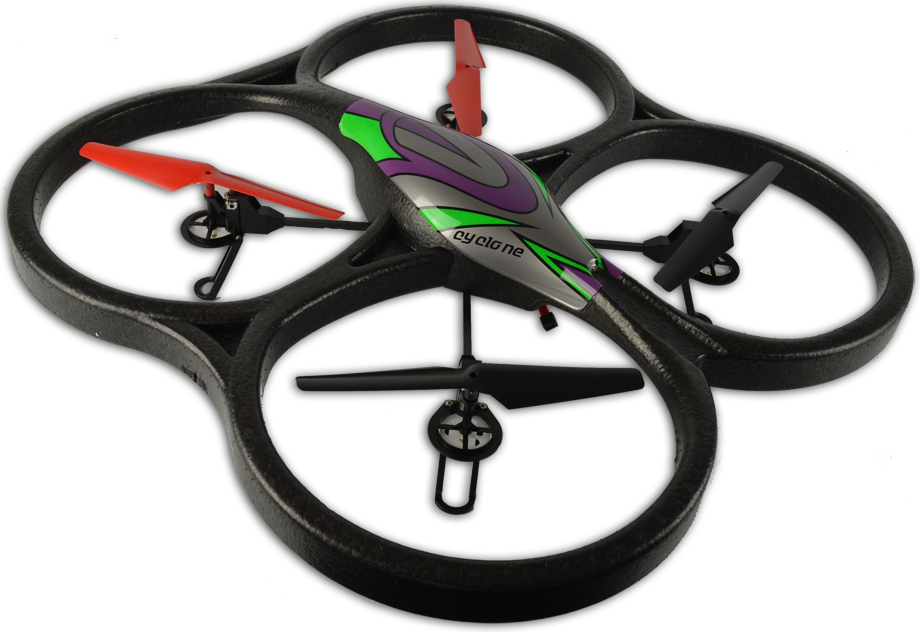 CAPTURE STUNNING AERIAL PHOTOS AND VIDEOS
The built in camera records to a micro SD card that can be removed for watching later.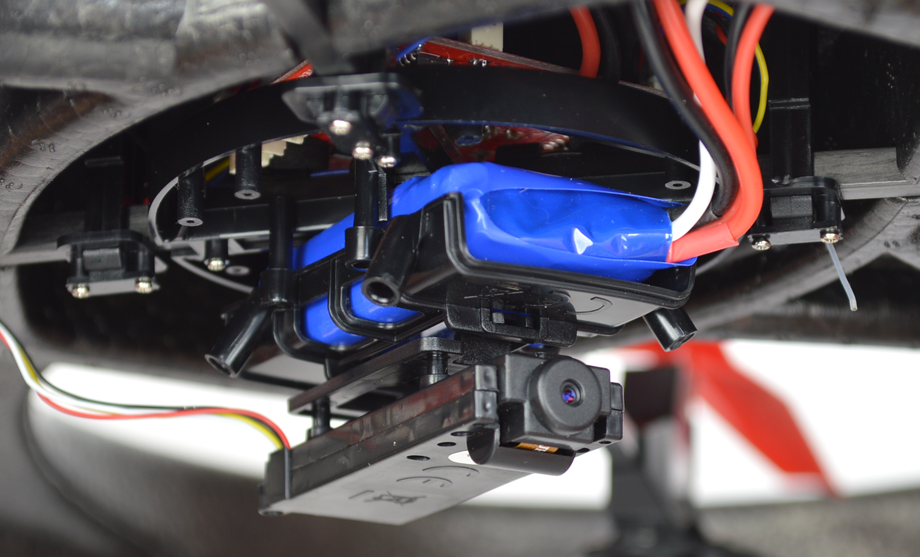 LARGE SIZE
This copter measures 525mm x 525mm x 105mm.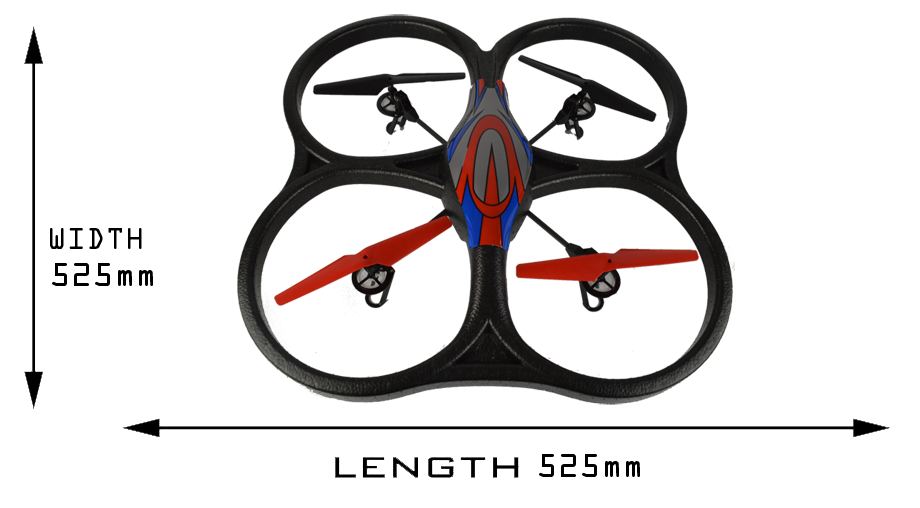 RAISED LANDING SKIDS
Provides extra protection in case of impact when landing.

NEW HEADLESS COMPASS FEATURE
Moves away from you when you push forward on the transmitter, no matter which way the copter is facing.

WORKING LED LIGHTS
Keep track of where you are when flying at night.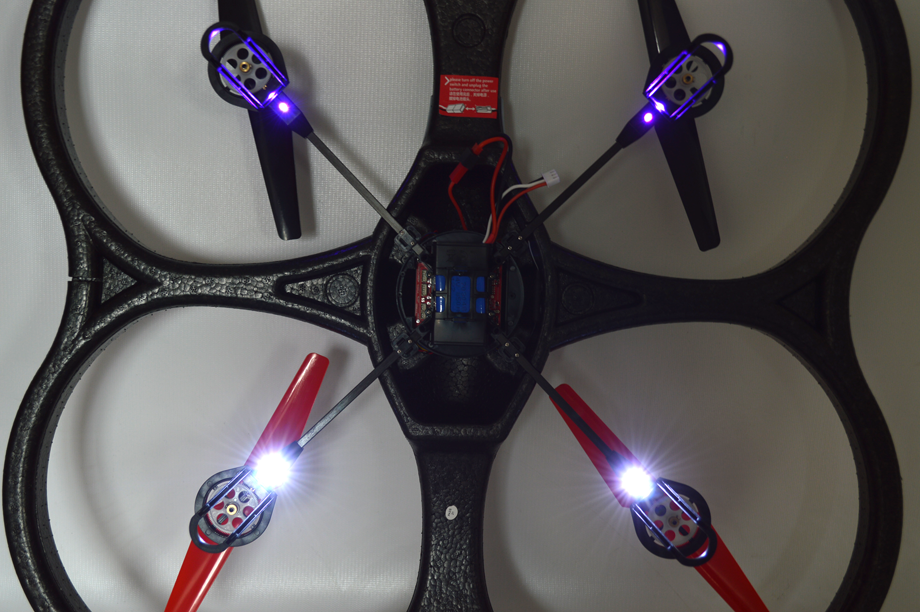 3.7V 730mAh LITHIUM POLYMER BATTERY
High capacity battery provides longer flight time.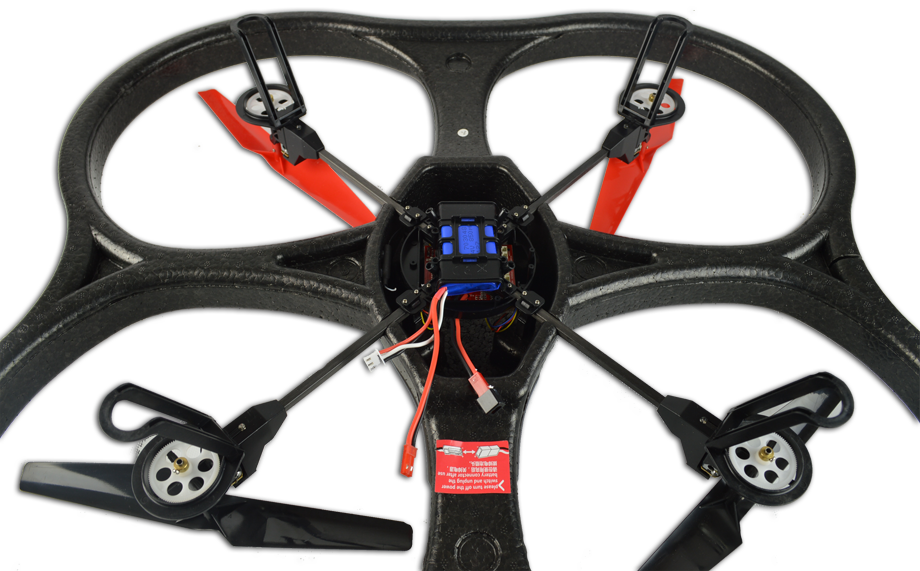 SKU
WLV333
Manufacturer
WL Toys
Build
RTF
Radio Equipment
2.4 GHz
Motor / Engine
Brushed
Blades
Single Blade
Channels
4 Ch
Specifications

Length: 510mm
Width: 520mm
Height: 33mm
Weight: 219g
Battery: 3.7V 850mAh Li-po
Radio Equipment: 2.4GHz 4 channel
Gyro: 6 Axis
Range: 100 – 150 meters
Flight Duration: 8 – 10 minutes
Control: Full 4 channel control including banking

Features

New headless compass feature
On board camera
Raised landing skids
Perfect for all levels of pilot
2.4Ghz transmitter enables multiple models to be used in the same area.
Special designed cover with durable material providing more protection if a crash occurs
Can perform flips and tricks
360° Flip function!
Working LED lights
Fully assembled and tested in the factory so ready to fly out of the box
Full Proportional Remote Control with Built-in 6 axis Gyro automatic stabilisation system
High capacity Li-Po battery included, provides longer flight time
What's In The Box?
1 x V333 RC Quadcopter
1 x Camera
1 x 2.4GHz Transmitter
1 x 3.7V 730mAh Li-Po Battery
1 x Balance charger
1 x USB SD Card reader
1 x 2 GB SD card
4 x Spare Propellers

Required To Use
6 x AA Batteries for the Transmitter
ALL NEW 2.4GHz RADIO TRANSMITTER
All new 2.4GHz radio technology is used. This is more reliable than the old FM equipment and allows multiple RC models to be used in the same area without interference.