Description
The new compass feature makes flying the quadcopter much easier. Without this feature a quadcopter will be controlled like a helicopter whereby to go in a certain direction the helicopter must be rotated to face that direction and then you go forward. With the compass turned on it no longer matters which way the quadcopter is pointing, when you push forward on the transmitter the quadcopter will always move away from the take off position, and the same with the other directions regardless of which way it is pointing. The quadcopter comes fully built with everything needed to fly including the excellent Skyartec NASA701 7ch LCD transmitter. Featuring an advanced 6 axis gyro with auto correcting that supports fixed point hovering, and also PTZ link function makes aerial photography or FPV flying a pleasure. This quadcopter is crammed with cutting edge technology that puts it into a different league than the toy quadcopters. Check out the full feature list below.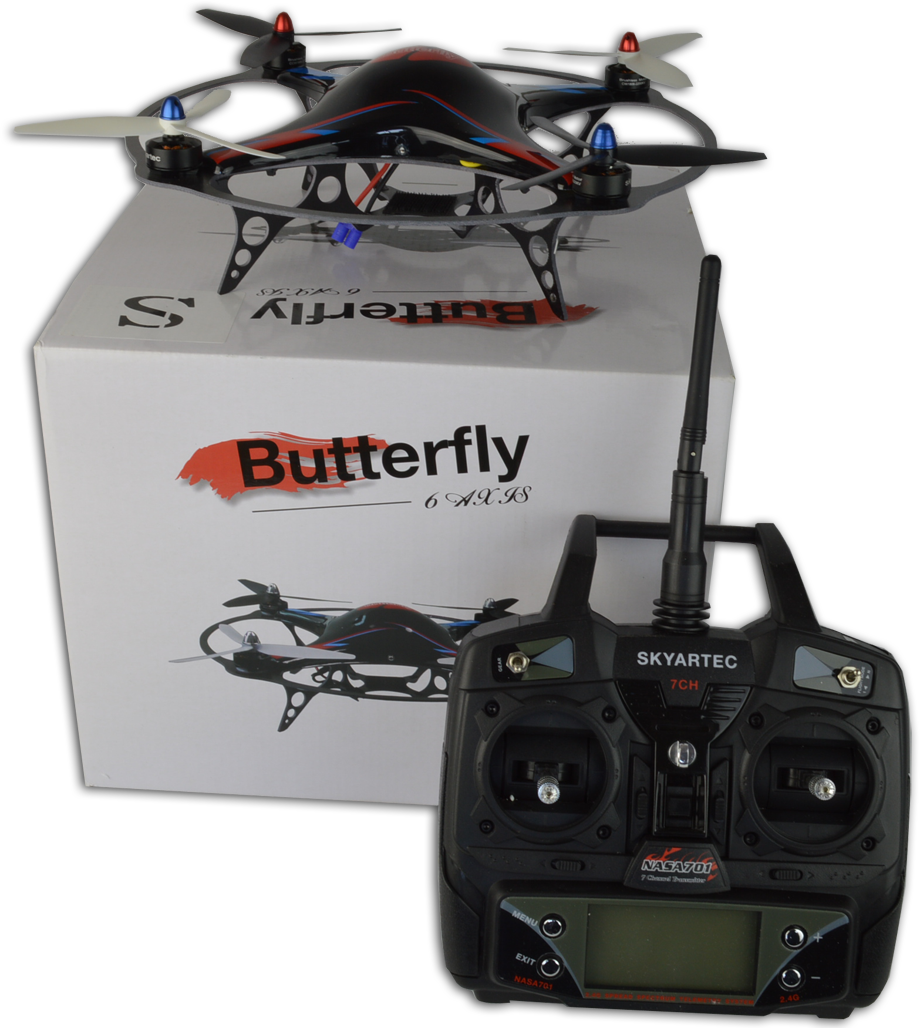 6 AXIS FLIGHT CONTROL SYSTEM
The adjustable gyroscope automatically adjusts the speeds of the rotors to keep the copter stable even in windy conditions.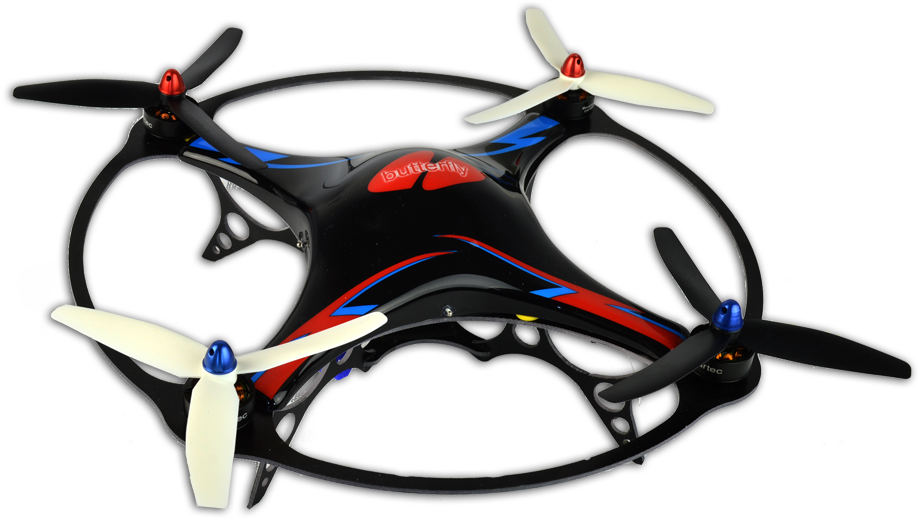 NEW COMPASS FEATURE
Moves away from you when you push forward on the transmitter, no matter which way the copter is facing.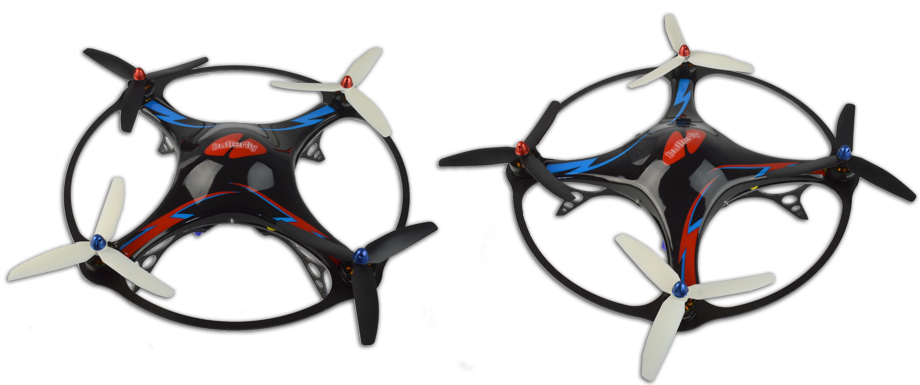 DIMENSIONS
This copter measures 267mm x 267mm x 100mm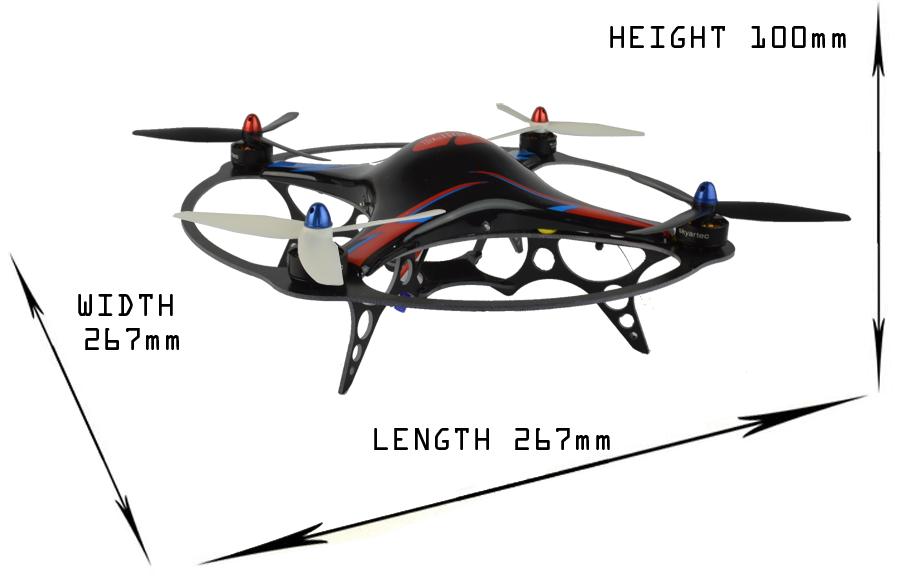 7.4V 1300mAh LITHIUM POLYMER BATTERY
High capacity battery provides longer flight time.

ALL NEW 2.4GHz RADIO TRANSMITTER
All new 2.4GHz radio technology is used. This is more reliable than the old FM equipment and allows multiple RC models to be used in the same area without interference.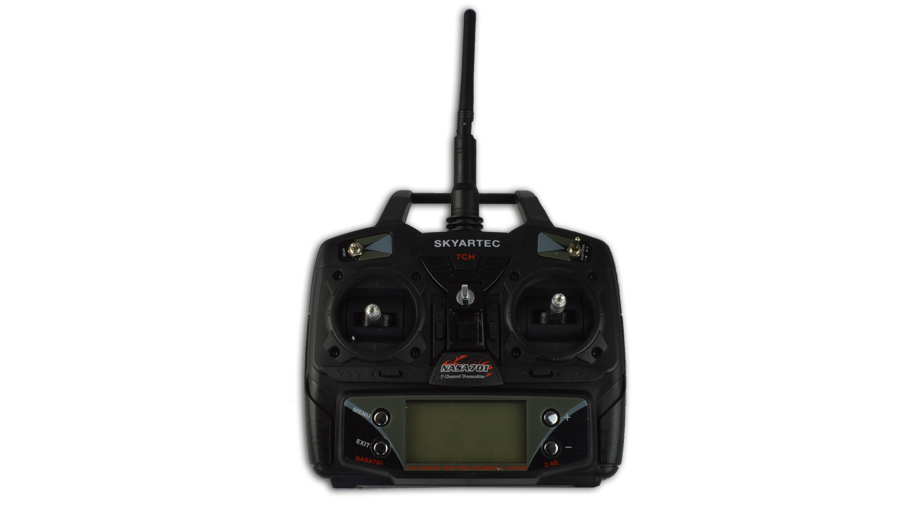 SKU
KMC01-1
Manufacturer
Skyartec
Build
RTF
Radio Equipment
2.4 GHz
Motor / Engine
Brushless
Blades
Single Blade
Channels
4 Ch
Specifications

Transmitter: NASA701 7Ch LCD 2.4Ghz
Control Distance: 500m
Receiver: SKY706
Camera Carry Weight: 80g
Control system: Butteryfly flight control board
ESC: 15AS x 4pcs
Battery: 7.4V 1300mah Li-Po
Charger: Balance charger with UK 12V power adapter
Motor: 4 x 1804 2000KV brushless
Size: 267mm x 267mm x 100mm
Weight: 300g

Features

Fully built ready to fly
Compass function for easier flight control
Use of excellent quality components for stable and superior performance
Use of 32 bit single chip
6 axis gyro – three axis acceleration sensor and three axis angular rate sensor
Easy to use and debug
3 axis gyro sensitivity and the main function can be adjusted by the position adjuster
Support for multi-axis X type
Output ports have up to six groups, can drive ESC or servo
Standard PWM signal output, supports conventional PWM ESC and all kinds of servos (digital or analog)
The receiver can be directly connected to the flight control board without a special decoder
Stable hovering and excellent handling (depends on a reasonable mix, commissioning and operational experience), the mode of operation is similar to an RC helicopter, but easier to adapt
Can perform some incredible stunt flying
Stable battery life for small scope aerial photography. Less complicated and expensive than using an RC helicopter
Supports firmware upgrades (need to buy the programming module), for increasing and improving performance
Self-stabilizing system, supports fixed-point hovering
Can quickly eliminate the inertia caused by flight so is fast and stable
Has aerial photo PTZ link function CAMP CAMR

Required To Use

8 x AA batteries to use in radio transmitter